As a parent of a child (the exact age of Hanna), my heart broke while reading this. I have no idea why I torture myself reading books where the kiddos are sick, but I can't seem to help it. I could not imagine going to the hospital because your kiddo is sick only to be told they have cancer. Then not even 2 months later, after dealing with treatments and spending all of your time at the hospital with your sick daughter your partner up and leaves you. So, not only do you have a sick kid, but you also have no one to lean on.
I loved how Patrick became part of Ken and Hanna's life. Subtle. Knowing that he was there, helping and not forceful. He comforted when he needed to and became Ken's rock without Ken even realizing it.
Patrick was amazing. Seriously, amazing. So selfless. He did things for Hanna (and Ken) that made my heart melt. What he said with actions was SO much more than what he could have said with words. Just seeing light up and happy was all Patrick needed.
I loved how he put Hanna first and knew eventually his relationship with Ken would come and be strong.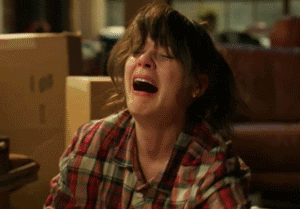 Me throughout almost this entire book.
This would have been a 5 star read from me, but there were a couple of missing pieces that I wanted. Needed. Where was Ken's parents? His mom called once?! If that was my mom, she would have been on the first flight out. I just didn't understand why they never came to visit their sick grandchild. Also, I would have loved to have seen the conversation between Mark and Ken, knowing that Ken wasn't going to go back to him. I think that was a key part that we missed.